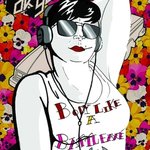 Rachel M. Loose
Rachel Loose was born in Salt Lake City, Utah, but lived in Tacoma, Washington for most of her life. She graduated from American Fork High School in 2009 and attended Snow College in Ephraim, UT for three years. Currently, she is attending Brigham Young University where she is pursuing a degree in Studio Art with printmaking as her emphasis. She has participated in exhibitions at the Springville Museum of Art in Springville, Utah, the Salt Lake City Children's Museum, and the Snow College art galleries. If you would like to contact her, e-mail her at: rachelmloose@gmail.com Social Media: bronwinning.wordpress.com Rachel M. Loose joined Society6 on July 2, 2012
More
Rachel Loose was born in Salt Lake City, Utah, but lived in Tacoma, Washington for most of her life. She graduated from American Fork High School in 2009 and attended Snow College in Ephraim, UT for three years. Currently, she is attending Brigham Young University where she is pursuing a degree in Studio Art with printmaking as her emphasis.
She has participated in exhibitions at the Springville Museum of Art in Springville, Utah, the Salt Lake City Children's Museum, and the Snow College art galleries.
If you would like to contact her, e-mail her at: rachelmloose@gmail.com
Social Media: bronwinning.wordpress.com
Rachel M. Loose joined Society6 on July 2, 2012.
Roller Derby Cai_Bag by Rachel M. Loose
12 results
Filter