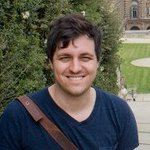 www.renatokg.com My name is Renato Klieger Gennari and I am a motion designer from São Paulo- Brazil based in Hamburg since 2009. I was born on March 31th, 1982 in São Paulo, Brazil. I studied Social Communication and Media Arts at Catholic University os São Paulo, between 2000 and 2003. Among the different techniques, I chose the incredible possibilities that the digital art makes available, mixing traditional and digital techniques and intending to integrate the technology in arts, never laying aside the poetry and the sensibility of the traditional works. In 2001 I received from Philips a prize of best youngest digital artist of America Latina. This prize gave me the opportunity to spend some time in Europe and visit animation studios. Between 2002 and 2005, I worked as an artist in Devworks Game Technology, developing artworks and animation for the game and advertising industry. The passion for the animation and graphic contents introduces me to start to develop broadcast design. In 2005 I decided to move to Nuyoung creative agency, working as motion designer. From 2005 until 2009 I worked at Terracota Films, where I had many different opportunities involving Motion Design and Compositing. In november 2009 I moved to Hamburg - Deustchland to work with Optix Digital Pictures as Motion Designer. From so on I have been in touch with the Germanic culture, learning as much as I can and enjoying the good rainy weather. :D I had luck to collect a few prizes along my life, and to be released in several different places: \- 1o place in Philips Latin America Digital art contest 2001 \- Indicated as MTV Awards Brazil - Best Music clip 2007 with "Sandrão, respeito oriental" \- 4o place in Bjork video clip Innocence, featured in a special EP edition \- Selected at HAF 2009 ( Holland Film Festival ), with "Black Amplifier - The S.I.G.I.T. music video \- Synthesys Magazine Interview 2006 \- Semi-permanent book 2006 \- Semi-permanent book 2007 \- Semi-permanent book 2010 \- MyartSpace Interview 2006 \_\_\_\_\_ Feel free to contact me for questions or just to talk about something related to my work or your work. renato@renatokg.com +49 5700 9624 Hamburg / São Paulo joined Society6 on July 15, 2012
More
www.renatokg.com
My name is Renato Klieger Gennari and I am a motion designer from São Paulo- Brazil based in Hamburg since 2009.
I was born on March 31th, 1982 in São Paulo, Brazil. I studied Social Communication and Media Arts at Catholic University os São Paulo, between 2000 and 2003. Among the different techniques, I chose the incredible possibilities that the digital art makes available, mixing traditional and digital techniques and intending to integrate the technology in arts, never laying aside the poetry and the sensibility of the traditional works.
In 2001 I received from Philips a prize of best youngest digital artist of America Latina. This prize gave me the opportunity to spend some time in Europe and visit animation studios. Between 2002 and 2005, I worked as an artist in Devworks Game Technology, developing artworks and animation for the game and advertising industry.
The passion for the animation and graphic contents introduces me to start to develop broadcast design. In 2005 I decided to move to Nuyoung creative agency, working as motion designer.
From 2005 until 2009 I worked at Terracota Films, where I had many different opportunities involving Motion Design and Compositing.
In november 2009 I moved to Hamburg - Deustchland to work with Optix Digital Pictures as Motion Designer.
From so on I have been in touch with the Germanic culture, learning as much as I can and enjoying the good rainy weather. :D
I had luck to collect a few prizes along my life, and to be released in several different places:
- 1o place in Philips Latin America Digital art contest 2001
- Indicated as MTV Awards Brazil - Best Music clip 2007 with "Sandrão, respeito oriental"
- 4o place in Bjork video clip Innocence, featured in a special EP edition
- Selected at HAF 2009 ( Holland Film Festival ), with "Black Amplifier - The S.I.G.I.T. music video
- Synthesys Magazine Interview 2006
- Semi-permanent book 2006
- Semi-permanent book 2007
- Semi-permanent book 2010
- MyartSpace Interview 2006
_____
Feel free to contact me for questions or just to talk about something related to my work or your work.
renato@renatokg.com
+49 5700 9624
Hamburg / São Paulo
joined Society6 on July 15, 2012.