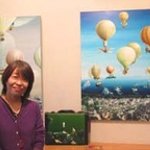 http://ginnohoshi-en.blogspot.co.uk/ A contemporary visual artist in Japan. I have started my artists career since I finished BA. I studied English and American literature in my degree and I had a great interest from The Canterbury Tales. Thus my early artwork is quite often painted the middle ages England. Although I did not get a specific education of the arts, I have studied painting from Konomi Kono and still I am affected by Konomi's attitude of artwork. I am prefer to draw happier situation in my artwork because I would like to share viewers 'Laugh and be fat' that is my way of enjoying own life. joined Society6 on November 6, 2012
More
http://ginnohoshi-en.blogspot.co.uk/
A contemporary visual artist in Japan.
I have started my artists career since I finished BA. I studied English and American literature in my degree and I had a great interest from The Canterbury Tales.
Thus my early artwork is quite often painted the middle ages England.
Although I did not get a specific education of the arts, I have studied painting from Konomi Kono and still I am affected by Konomi's attitude of artwork.
I am prefer to draw happier situation in my artwork because I would like to share viewers 'Laugh and be fat' that is my way of enjoying own life.
joined Society6 on November 6, 2012.