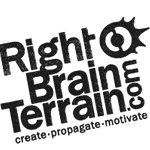 Instagram: http://instagram.com/rightbrainterrain/ Facebook: https://www.facebook.com/RightBrainTerrain Twitter: https://twitter.com/Frederic_Terral Have you seen the motivational poster with the guy climbing a mountain, the man leaping across a dangerous gorge, or the eagle soaring high above the plains? Perhaps you've seen them at your dentist's office, CPA's office, the library, the post office, the cleaners, school... Headquartered in sunny Boulder, Colorado, USA, RightBrainTerrain.com ("RBT") launched in 2006 to produce Alternative Motivational Posters (affectionately known as "AMPs"). AMPs avoid the all-too-established formula of (what used to be) the mainstream motivational poster. RBT believes that such posters serve a purpose and a specific audience, but since they don't appeal to us, we decided to create ones that do. AMPs are subtle, loud, metaphoric, ambiguous, motivational, literal, symbolic, obvious, bright, dark, distressed, clean, colorful, black and white, surprising, predictable, unique, exciting, boring, inspiring... There are no rules - just gut. The process is a visceral one that is fueled by a yearning to positively contribute to society, for the sheer love of the creative process, for the poetically stagnant nature of posters, and for the deliberate art of contemporary graphic design. So how qualified is RBT to motivate you? Who are we to be so arrogant as to assume that we know what will motivate or inspire you? The simple answer is that we have no idea what motivates or inspires you. AMPs are not intended to inspire one to get off the couch and run a marathon. We believe they serve as subtle reminders of our imperfect nature or of our personal victories. They can be our cheerleaders on good days and our coaches on bad ones. They are positive decorations for our occasionally monotonous lives. They are wall coverings to hide the hole you punched when your best friend crashed your car. RightBrainTerrain.com was founded by Frederic Terral. Frederic is an award-winning creative director and brand strategist whose multi-disciplinary approach has been utilized on projects for The Walt Disney Company, Holiday Inn Worldwide, Darden Restaurants, MetLife, Walt Disney Imagineering, Microsoft, The Coca-Cola Company, The Town of Celebration, The World of Beer, McDonald's, Big Brothers Big Sisters of America, MedX Corporation, Bloomin' Brands Inc, Jack in the Box, House of Blues, Ripley Entertainment Inc, Blockbuster and Outback Steakhouse (to name-drop a few). He is the President & CEO of Brand Architecture Inc., - http://brandarchitectureinc.com - the husband of a real life angel, the father of a girl with 54 imaginary friends and a boy who would love to take your computer apart. Frederic was born in Lyon, France, he speaks fluent French, he loves a good baguette, he once was a mime and he loves to write about himself in the third person. Feel free to contact Frederic at me@RightBrainTerrain.com to learn more about him in graphic detail. joined Society6 on August 12, 2011
More
Instagram: http://instagram.com/rightbrainterrain/ Facebook: https://www.facebook.com/RightBrainTerrain Twitter: https://twitter.com/Frederic_Terral
Have you seen the motivational poster with the guy climbing a mountain, the man leaping across a dangerous gorge, or the eagle soaring high above the plains? Perhaps you've seen them at your dentist's office, CPA's office, the library, the post office, the cleaners, school... Headquartered in sunny Boulder, Colorado, USA, RightBrainTerrain.com ("RBT") launched in 2006 to produce Alternative Motivational Posters (affectionately known as "AMPs"). AMPs avoid the all-too-established formula of (what used to be) the mainstream motivational poster.
RBT believes that such posters serve a purpose and a specific audience, but since they don't appeal to us, we decided to create ones that do. AMPs are subtle, loud, metaphoric, ambiguous, motivational, literal, symbolic, obvious, bright, dark, distressed, clean, colorful, black and white, surprising, predictable, unique, exciting, boring, inspiring... There are no rules - just gut. The process is a visceral one that is fueled by a yearning to positively contribute to society, for the sheer love of the creative process, for the poetically stagnant nature of posters, and for the deliberate art of contemporary graphic design.
So how qualified is RBT to motivate you? Who are we to be so arrogant as to assume that we know what will motivate or inspire you? The simple answer is that we have no idea what motivates or inspires you. AMPs are not intended to inspire one to get off the couch and run a marathon. We believe they serve as subtle reminders of our imperfect nature or of our personal victories. They can be our cheerleaders on good days and our coaches on bad ones. They are positive decorations for our occasionally monotonous lives. They are wall coverings to hide the hole you punched when your best friend crashed your car.
RightBrainTerrain.com was founded by Frederic Terral. Frederic is an award-winning creative director and brand strategist whose multi-disciplinary approach has been utilized on projects for The Walt Disney Company, Holiday Inn Worldwide, Darden Restaurants, MetLife, Walt Disney Imagineering, Microsoft, The Coca-Cola Company, The Town of Celebration, The World of Beer, McDonald's, Big Brothers Big Sisters of America, MedX Corporation, Bloomin' Brands Inc, Jack in the Box, House of Blues, Ripley Entertainment Inc, Blockbuster and Outback Steakhouse (to name-drop a few). He is the President & CEO of Brand Architecture Inc., - http://brandarchitectureinc.com - the husband of a real life angel, the father of a girl with 54 imaginary friends and a boy who would love to take your computer apart. Frederic was born in Lyon, France, he speaks fluent French, he loves a good baguette, he once was a mime and he loves to write about himself in the third person. Feel free to contact Frederic at me@RightBrainTerrain.com to learn more about him in graphic detail.
joined Society6 on August 12, 2011.