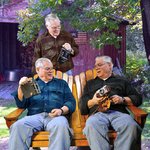 Life long resident of N.H. Born & raised in Pittsfield, have lived & worked most of my life in Loudon, N.H. My love of photography goes back more then 62 years. From my first Kodak camera to today's digital Nikon's. I became aware a long time ago that there is beauty all around us just waiting to be captured thru the lens of a camera. joined Society6 on July 14, 2012
More
Life long resident of N.H. Born & raised in Pittsfield, have lived & worked most of my life in Loudon, N.H.
My love of photography goes back more then 62 years. From my first Kodak camera to today's digital Nikon's. I became aware a long time ago that there is beauty all around us just waiting to be captured thru the lens of a camera.
joined Society6 on July 14, 2012.