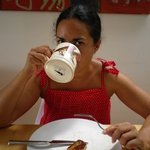 Robin101
Hailing from Jamaica, Sydney based artist, Robin Clare's work is inspired by dancehall culture and the brilliant aesthetics of Jamaican pop culture. Her Society 6 collection is taken from a series of original illustrations titled Dancing Words. The illustrations are a series or colourful paintings made up of line drawings of popular Jamaican dances repeated to create a pattern, combined with text giving the name of the dance. For both the illustrations and the cushions Robin has chosen a colour pallet inspired by her own Jamaican roots. With bold and vibrant combinations that make great statement pieces. For more information on Robin and her work visit www.robinclare.com Robin101 joined Society6 on July 20, 2011
More
Hailing from Jamaica, Sydney based artist, Robin Clare's work is inspired by dancehall culture and the brilliant aesthetics of Jamaican pop culture.
Her Society 6 collection is taken from a series of original illustrations titled Dancing Words. The illustrations are a series or colourful paintings made up of line drawings of popular Jamaican dances repeated to create a pattern, combined with text giving the name of the dance. For both the illustrations and the cushions Robin has chosen a colour pallet inspired by her own Jamaican roots. With bold and vibrant combinations that make great statement pieces.
For more information on Robin and her work visit www.robinclare.com
Robin101 joined Society6 on July 20, 2011.