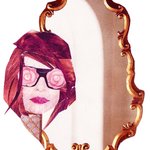 Lifes mysteries provide the inspiration for my artwork. Treasures from the past and visions of the future merge together to create an assemblage of the present. Plucked from drawers, torn from pages, painted with acrylic, oil, spray paint, shoe polish, make up- metamorph into new visions on my canvas. Closer inspection reveals unexpected twists of fate for the individual elements transform into a new whole. joined Society6 on December 3, 2012
More
Lifes mysteries provide the inspiration for my artwork. Treasures from the past and visions of the future merge together to create an assemblage of the present.
Plucked from drawers, torn from pages, painted with acrylic, oil, spray paint, shoe polish, make up- metamorph into new visions on my canvas.
Closer inspection reveals unexpected twists of fate for the individual elements transform into a new whole.
joined Society6 on December 3, 2012.