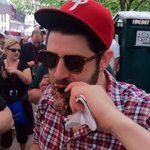 I make abstract sports infographics that depict the story of a historic season through color. Each Ross & Gary \[Box Score\] takes each game of a season and mixes the colors of the two teams playing proportionally to the result of the game. What results is a map of the season that, when the team is good, creates a new perspective on old memories. Go to http://www.rossandgary.com to get the latest updates, new prints, and sign up for the newsletter joined Society6 on October 24, 2011
More
I make abstract sports infographics that depict the story of a historic season through color. Each Ross & Gary [Box Score] takes each game of a season and mixes the colors of the two teams playing proportionally to the result of the game. What results is a map of the season that, when the team is good, creates a new perspective on old memories.
Go to http://www.rossandgary.com to get the latest updates, new prints, and sign up for the newsletter
joined Society6 on October 24, 2011.