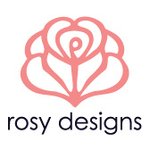 Rosy Designs
Rosy is an artist based in Vancouver, Canada, who works in many mediums, and Rosy Designs is one of her many creative outlets. Rosy Designs has grown out of her love for illustration, patterns, colors and nostalgia, especially for the children's book illustrations from when she was young. For more work, please visit www.rosydesigns.com Rosy Designs joined Society6 on December 2, 2013
More
Rosy is an artist based in Vancouver, Canada, who works in many mediums, and Rosy Designs is one of her many creative outlets. Rosy Designs has grown out of her love for illustration, patterns, colors and nostalgia, especially for the children's book illustrations from when she was young.
For more work, please visit www.rosydesigns.com
Rosy Designs joined Society6 on December 2, 2013.