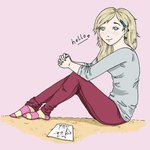 Rowan Lee-Foyster
Hello!
My name is Rowan Lee-Foyster and my main illustrative focuses are children's art, cartoon/comic/manga style and my own personal fan art.
I studied BA (Hons) Illustration at Norwich University College of the Arts (NUCA – or NUA now as it's a full university) and graduated July 2012. I have since become a freelance illustrator and designer in between retail work.
Since it's naughty to post up fan art, alas I won't be sharing any of that with you (which is such a shame!) but I hope you like the work I can put up here!
If you would like to see more of my work and/or would like to keep track of what I'm up to, please do check out my online portfolio website and Facebook page, and feel free to Like me there and follow me on Twitter!
www.rowanlee-foysterillustration.co.uk www.facebook.com/RLFIllustration twitter.com/RLFIllustration http://www.linkedin.com/pub/rowan-lee-foyster/50/38/7a8
Thank you!
Read more
Rowan Lee Foyster's Store
Filter
Rowan Lee Foyster's Store