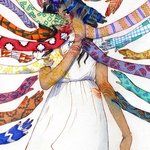 I'm Roxanne Morataya, but just call me Roxy! Just a girl from Santa Monica, CA aspiring to be a professional artist and your new friend. I'm influenced by my life in West Los Angeles, specifically the people that I encounter day-to-day. You'll probably find me on a bus, a gallery opening, or just doodling somewhere. I work primarily with watercolor, but I like to use other mediums, such as Graphite Pencil, Letterpress, and Gouache. Here are some other neat places! http://www.roxymorataya.com http://www.roxymorataya.tumblr.com Instagram: @roxxxxxym joined Society6 on October 19, 2011
More
I'm Roxanne Morataya, but just call me Roxy! Just a girl from Santa Monica, CA aspiring to be a professional artist and your new friend. I'm influenced by my life in West Los Angeles, specifically the people that I encounter day-to-day. You'll probably find me on a bus, a gallery opening, or just doodling somewhere. I work primarily with watercolor, but I like to use other mediums, such as Graphite Pencil, Letterpress, and Gouache.
Here are some other neat places!
http://www.roxymorataya.com
http://www.roxymorataya.tumblr.com
Instagram: @roxxxxxym
joined Society6 on October 19, 2011.