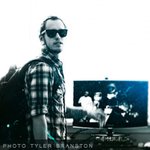 I grew up in Vancouver. I like it here. I also like new ideas. Art, culture, music, photography, design... whatever. If there's new thinking around an old problem, it makes me happy. In school, I found I could express myself a lot better through designing and taking pictures than I ever could as a dentist or something. Lucky for everyone's welfare, I stuck with creative services. At the end of the day, I'm young, passionate and just myself. I hope that comes across in my work. joined Society6 on December 10, 2011
More
I grew up in Vancouver. I like it here. I also like new ideas. Art, culture, music, photography, design... whatever. If there's new thinking around an old problem, it makes me happy.
In school, I found I could express myself a lot better through designing and taking pictures than I ever could as a dentist or something. Lucky for everyone's welfare, I stuck with creative services.
At the end of the day, I'm young, passionate and just myself. I hope that comes across in my work.
joined Society6 on December 10, 2011.