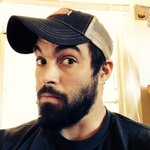 It may be argued that Ryan was born with a creative lust to re-create the world around him imaginatively. It also may be argued that Ryan hated schoolwork and found his knack for sketching by doodling all over his homework…except for the spaces where actual research was required. Wherever the drive to draw came from it certainly stuck and has not released. 9 times out of 10 you may find Ryan hunched over a sketchbook, scrap of paper, envelop of the electric bill, post-it note or even paper napkin, drawing…giving life to an imagination that was forged without boundaries. When Ryan is not drawing he has been known to rescue damsels in distress and wrestle large bloodthirsty carnivorous plants with his pet dire rat, Snap. Also, Ryan likes to read comics, play video games, geek-out in D&D campaigns and watch cartoons. Ryan Works at Yavapai College, instructing Animation in Adobe Flash. Ryan is also finishing up his master's degree in Media Design through Full Sail University and lives with his partner Claire Louge and Labrador Snap. joined Society6 on August 15, 2012
More
It may be argued that Ryan was born with a creative lust to re-create the world around him imaginatively. It also may be argued that Ryan hated schoolwork and found his knack for sketching by doodling all over his homework…except for the spaces where actual research was required. Wherever the drive to draw came from it certainly stuck and has not released. 9 times out of 10 you may find Ryan hunched over a sketchbook, scrap of paper, envelop of the electric bill, post-it note or even paper napkin, drawing…giving life to an imagination that was forged without boundaries.
When Ryan is not drawing he has been known to rescue damsels in distress and wrestle large bloodthirsty carnivorous plants with his pet dire rat, Snap. Also, Ryan likes to read comics, play video games, geek-out in D&D campaigns and watch cartoons.
Ryan Works at Yavapai College, instructing Animation in Adobe Flash. Ryan is also finishing up his master's degree in Media Design through Full Sail University and lives with his partner Claire Louge and Labrador Snap.
joined Society6 on August 15, 2012.