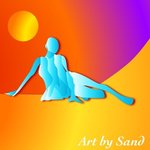 I am an internationally sold & exhibited, disabled artist & designer based in Liverpool, a coastal city in the North West of England. Most of the art works available to buy here have been created on my iPhone or iPad, unless otherwise stated. I hope that you enjoy browsing and find something pleasing. Feedback is always gratefully received. Namaste. joined Society6 on October 15, 2011
More
I am an internationally sold & exhibited, disabled artist & designer based in Liverpool, a coastal city in the North West of England.
Most of the art works available to buy here have been created on my iPhone or iPad, unless otherwise stated.
I hope that you enjoy browsing and find something pleasing.
Feedback is always gratefully received.
Namaste.
joined Society6 on October 15, 2011.