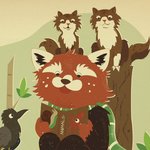 Sara Lynn Cramb
Hello! My name is Sara Lynn Cramb. I'm an illustrator and designer with a love of visual storytelling currently living in Athens, GA. I specialize in digital illustration featuring maps, animals, and monsters, as well as print and web design. In my free time I enjoy hiking, reading comic books, cooking, collecting vintage picture books, and going on road trips. The creative expression of ideas has been a passion of mine for as long as I can remember. I find a lot of inspiration in my work from the natural would, including both living and extinct animals. Humor is also extremely important to me as an agent of storytelling and bringing characters to life. Sara Lynn Cramb joined Society6 on January 8, 2013
More
Hello! My name is Sara Lynn Cramb. I'm an illustrator and designer with a love of visual storytelling currently living in Athens, GA. I specialize in digital illustration featuring maps, animals, and monsters, as well as print and web design. In my free time I enjoy hiking, reading comic books, cooking, collecting vintage picture books, and going on road trips.
The creative expression of ideas has been a passion of mine for as long as I can remember. I find a lot of inspiration in my work from the natural would, including both living and extinct animals. Humor is also extremely important to me as an agent of storytelling and bringing characters to life.
Sara Lynn Cramb joined Society6 on January 8, 2013.
Teetering Goat_Print by Sara Lynn Cramb
6 results
Filter