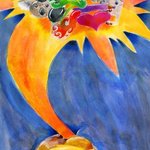 A new illustrator from england, I work with a mixture of inks, pencil and a touch of acrylic to get a unique sense of colour in my illustrative work. I've recently finished a degree in illustration and design at university and plan on working towards creating more illustrative prints and books for sale. Take a good gander and I hope you enjoy what you see! :) joined Society6 on June 27, 2011
More
A new illustrator from england, I work with a mixture of inks, pencil and a touch of acrylic to get a unique sense of colour in my illustrative work. I've recently finished a degree in illustration and design at university and plan on working towards creating more illustrative prints and books for sale.
Take a good gander and I hope you enjoy what you see! :)
joined Society6 on June 27, 2011.