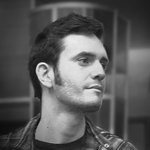 Davis Engel
I'm a concept artist and illustrator from Tucson, AZ. My primary medium is digital, but I love sketching with traditional pencils and copic markers. Feel free to contact me for commissions, process, anything at: Davis@SpiritHunterArt.com And visit my websites for art, fun sketches and general ramblings at: www.SpiritHunterArt.com spirithunterart.blogspot.com www.facebook.com/SpiritHunterArt/ Davis Engel joined Society6 on May 4, 2013
More
I'm a concept artist and illustrator from Tucson, AZ. My primary medium is digital, but I love sketching with traditional pencils and copic markers. Feel free to contact me for commissions, process, anything at:
Davis@SpiritHunterArt.com
And visit my websites for art, fun sketches and general ramblings at:
www.SpiritHunterArt.com spirithunterart.blogspot.com www.facebook.com/SpiritHunterArt/
Davis Engel joined Society6 on May 4, 2013.