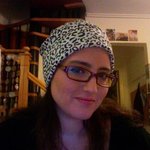 Stella Maria Kotsaki
I was born in Philadelphia, USA by Greek parents, we moved to Greece after the dictatorship was overthrown in 1974 - so that shows my age... among other things. I have lived in Athens and Filiatra Messinias in the Peloponnese. I have also lived in England for seven years where I studied art ( London Guildhall University ) in between of learning about myself, life, the world and the universe. I have been back in Athens for quite some time, enjoying my country and the amazing character and resilience of my fellow Greeks, while at the same time trying to make a living as a painter.
A few words about my work In every painting my ultimate goal is to produce a piece of work that will allow the viewer to travel in a similar journey to that of my own as I was creating the work, while my eyes and hands were discovering and creating the play of colour and form. My striving does not focus in reproducing reality but rather creating a new one by fragmenting and reconstructing forms while a fragile balance is achieved by the variation of colour. Some times you the viewers may recognize a figure, a piece of landscape or a path leading somewhere in the distance. Wether these elements were or not part of my initial effort, they do aid you to create and enjoy the visual journey each painting is trying to offer. I wish you an interesting journey as you look at my works and discover your own and unique interpretation.
http://stellamariakotsaki.crevado.com/
http://kotsaki-stella-maria-artworks.blogspot.com/
Read more
Stella Maria Kotsaki's Store
Filter