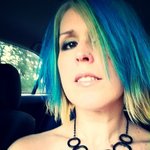 Steph Z
Stephanie is a California girl who has been living and designing on the Gold Coast for 10 years. Graphic designer by day, art deviant by night, Stephanie is a Pop Surrealist and Lowbrow style of artist. She loves to draw and paint mostly the female form and a unique stylized type of portraiture with artistic distortions and awesome eyes. She is constantly drawing, painting, designing tattoos and working digitally. Her love of bright bold colours and tattoos shows up time and again in her unique style and artwork. If you have a skateboard laying around, she would probably paint that too! Steph has studied fine art and graphic design throughout high school, college and university. She has an Associated Degree in Art and graduated from San Diego State University with a Bachelors Degree in Graphic Design. Currently Steph is the director of a graphic and website design company, Jungle Design Studios. The rest of her free time is spent Drawing and Painting Colorful things to make the world more beautiful one piece of art at a time. Steph Z joined Society6 on August 21, 2013
More
Stephanie is a California girl who has been living and designing on the Gold Coast for 10 years. Graphic designer by day, art deviant by night, Stephanie is a Pop Surrealist and Lowbrow style of artist.
She loves to draw and paint mostly the female form and a unique stylized type of portraiture with artistic distortions and awesome eyes. She is constantly drawing, painting, designing tattoos and working digitally. Her love of bright bold colours and tattoos shows up time and again in her unique style and artwork.
If you have a skateboard laying around, she would probably paint that too!
Steph has studied fine art and graphic design throughout high school, college and university. She has an Associated Degree in Art and graduated from San Diego State University with a Bachelors Degree in Graphic Design. Currently Steph is the director of a graphic and website design company, Jungle Design Studios.
The rest of her free time is spent Drawing and Painting Colorful things to make the world more beautiful one piece of art at a time.
Steph Z joined Society6 on August 21, 2013.