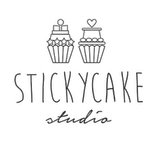 Design is yummy like cupcakes! StickyCake Studio is our design lab and we are happy to share with you our passion. Enjoy. Valentina and Alessia are colleagues and friends. They have a great passion that unites them: draw inspiration from the world around them, to grasp details and rework them to create patterns and fabric. This passion, in 2011, leading up to London where he attended a course of Surface Decoration at St. Martin School. joined Society6 on February 21, 2013
More
Design is yummy like cupcakes!
StickyCake Studio is our design lab and we are happy to share with you our passion.
Enjoy.
Valentina and Alessia are colleagues and friends. They have a great passion that unites them: draw inspiration from the world around them, to grasp details and rework them to create patterns and fabric. This passion, in 2011, leading up to London where he attended a course of Surface Decoration at St. Martin School.
joined Society6 on February 21, 2013.