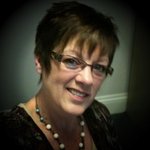 Who am I? Wife, mother, grandmother, friend, quirky kinda chickie with a laugh that is too loud and a sense of humor that is at times a bit warped. I have muddled my way through 52 years of life trying to find my bliss. Years ago in high school, back when the dinosaurs roamed the earth, I drew, painted, dabbled in batik and threw pottery. I graduated and left my artistic side behind to become a mother and stuffy gal who wore dress clothes and worked in an office. Well guess what world, I'm back! I have embraced the artistic chickie that lay dormant for all those years. Amoung these pages you will find the results of this awakening. Thanks for dropping by. Enjoy your visit. Peace out ~Sue joined Society6 on March 26, 2012
More
Who am I? Wife, mother, grandmother, friend, quirky kinda chickie with a laugh that is too loud and a sense of humor that is at times a bit warped. I have muddled my way through 52 years of life trying to find my bliss.
Years ago in high school, back when the dinosaurs roamed the earth, I drew, painted, dabbled in batik and threw pottery. I graduated and left my artistic side behind to become a mother and stuffy gal who wore dress clothes and worked in an office.
Well guess what world, I'm back! I have embraced the artistic chickie that lay dormant for all those years. Amoung these pages you will find the results of this awakening.
Thanks for dropping by. Enjoy your visit.
Peace out ~Sue
joined Society6 on March 26, 2012.