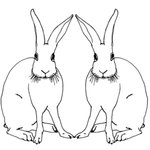 Supermaggie
www.supermaggie.com
Maggie was a girl scout. Michael was a punk rocker. They met in college, fell in love and got art degrees. They moved to Brooklyn and had lots of fun.
Possessing art degrees, fearing 9 to 5 jobs and missing the lush outdoors they had both grown up with, they were inspired to create a line of edgy nature inspired tops and tees for men and women.
Maggie and Michael now make their home in Austin TX where it never snows and they can occasionally skip work to go swimming in Barton Springs Pool.
When Maggie is not designing and making fabulous new tops and tees she paints paintings and tends her garden. When Michael isn't working on the website or packing boxes with wonderful Supermaggie treats he makes music and watches birds.
All of our items are created and packed up with love and care at the Supermaggie workshop by us and our super-awesome assistant Autumn and our totally great printer Joey. We sell our lovely merchandise to lovely people and stores all over the world.
Read more