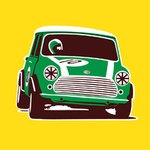 Susana Costa Real
www.motorbest.net http://www.behance.net/susanareal My name is Susana Real and I'm from Porto, in Portugal. This portfolio shows mainly my illustration work at MotorBest. This small company is a personal project dedicated to motoring enthusiasts worldwide. My illustrations can be seen on decorative prints, t-shirts, vinyl stickers and embroideries. Simultaneously I work as a freelancer for all sorts of companies, either in design or illustration projects. E-mail: susanareal(@)gmail.com Susana Costa Real joined Society6 on June 18, 2012
More
www.motorbest.net
http://www.behance.net/susanareal
My name is Susana Real and I'm from Porto, in Portugal.
This portfolio shows mainly my illustration work at MotorBest. This small company is a personal project dedicated to motoring enthusiasts worldwide.
My illustrations can be seen on decorative prints, t-shirts, vinyl stickers and embroideries.
Simultaneously I work as a freelancer for all sorts of companies, either in design or illustration projects.
E-mail: susanareal(@)gmail.com
Susana Costa Real joined Society6 on June 18, 2012.