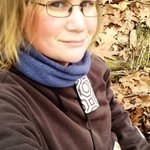 Suzanne Harford
Coffee addict, chocoholic, professional in the horse industry, photographer, artist... that's me in a nutshell. I have enjoyed photography since I was a kid. My dad would occasionally use his "big" film SLR camera kit (a camera I now own and still use) while teaching me little bits here and there. Several years ago I became more serious about film photography and digital photography came on board in 2012. It's all still a learning experience. Everyday I learn something new about photography and/or I learn something new about myself because of photography. Suzanne Harford joined Society6 on December 9, 2012
More
Coffee addict, chocoholic, professional in the horse industry, photographer, artist... that's me in a nutshell.
I have enjoyed photography since I was a kid. My dad would occasionally use his "big" film SLR camera kit (a camera I now own and still use) while teaching me little bits here and there. Several years ago I became more serious about film photography and digital photography came on board in 2012.
It's all still a learning experience. Everyday I learn something new about photography and/or I learn something new about myself because of photography.
Suzanne Harford joined Society6 on December 9, 2012.
Prints by Suzanne Harford
33 results
Filter