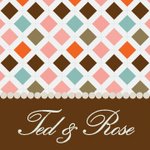 We are an italian/german design duo with professional screen design background. Our studio is based in Munich, Germany. We love decorative art and most of all we love patterns and ornaments! As we are very experienced in digital fine art printing, we also work for photographers and galleries. Currently we are developing decorative ornamental art for home, office and public space. http://www.facebook.com/Ted.and.Rose.Design http://www.envelop.eu/shop/designers/p/detail/ted-and-rose-design http://www.artflakes.com/en/shop/ted-and-rose-design http://www.redbubble.com/people/ted-and-rose joined Society6 on April 16, 2012
More
We are an italian/german design duo with professional screen design background. Our studio is based in Munich, Germany.
We love decorative art and most of all we love patterns and ornaments!
As we are very experienced in digital fine art printing, we also work for photographers and galleries.
Currently we are developing decorative ornamental art for home, office and public space.
http://www.facebook.com/Ted.and.Rose.Design
http://www.envelop.eu/shop/designers/p/detail/ted-and-rose-design
http://www.artflakes.com/en/shop/ted-and-rose-design
http://www.redbubble.com/people/ted-and-rose
joined Society6 on April 16, 2012.