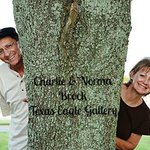 Texas Eagle Gallery
Charlie and Norma Brock work together as a team in their arts and crafts shop, Texas Eagle Gallery.
They live in the piney woods of East Texas where they create an eclectic mix of fine arts, accessories and collectibles. Charlie and Norma have over 80 years of creative and crafting experience between them (YIKES!) He is best known for his works in photography. His most loved prints feature Irish themes, from landscapes to portraits, as they obviously reflect his passion for all things Eire. Early pieces may be signed CWB, while most works are signed CBrock. He has photographed many Irish bands and music performances, with his photos gracing the social and commercial sites of these artists.
A signed certificate of authenticity is available with all purchases. Just drop us a note with your mailing address and certificate will be sent direct from the artist.
Read more
Texas Eagle Gallery's Store
Filter