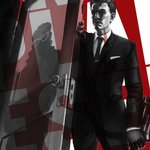 London based Illustrator becoming increasingly more 'digitised' as the years tick by. I like (in no particular order)...comics, classic movies, jazz, doodling, tea, crunching dry leaves under foot, rock, bejewelled, typography, foreign language films, my saxophone, coffee, dirty blues, film noir, my family, Georges Kaplan, medieval iconography, real ale, strolling the streets of London with some good music in my ears. Please do check out the website www.thinkstrange.co.uk joined Society6 on December 10, 2011
More
London based Illustrator becoming increasingly more 'digitised' as the years tick by.
I like (in no particular order)...comics, classic movies, jazz, doodling, tea, crunching dry leaves under foot, rock, bejewelled, typography, foreign language films, my saxophone, coffee, dirty blues, film noir, my family, Georges Kaplan, medieval iconography, real ale, strolling the streets of London with some good music in my ears.
Please do check out the website www.thinkstrange.co.uk
joined Society6 on December 10, 2011.