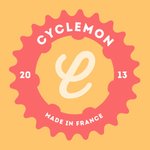 Cyclemon
Cyclemon is a recreational site created on the occasion of the centennial edition of the "Tour de France" by Romain Bourdieux and Thomas Pomarelle. Each design is drawn from the concept of "You are what you ride", where everyone can identify itself at a bike. If you want to know more, take a look at www.cyclemon.com Cyclemon joined Society6 on June 22, 2013
More
Cyclemon is a recreational site created on the occasion of the centennial edition of the "Tour de France" by Romain Bourdieux and Thomas Pomarelle. Each design is drawn from the concept of "You are what you ride", where everyone can identify itself at a bike.
If you want to know more, take a look at www.cyclemon.com
Cyclemon joined Society6 on June 22, 2013.
Weirdo Ww5_Print by Cyclemon
304 results
Filter