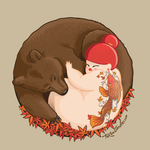 TokyoCandies
www.tokyocandies.com Rubens Cantuni. Born in 1982 in Genoa – Italy. I have Pantone 4485 C eyes and Pantone Process Black C hair. My work is influenced by a multitude of different sources. From japanese imaginary and culture to pop and street art, from tattoos to pop surrealism, movies and comics. I worked for several start-ups and independent fashion brands as well as big multinational companies, such as Nike, Hasbro and WWE. I focus mainly on character design and typography (but I like to be challenged with new projects), with a personal, colorful and rich in contrasts style. My work as been described as cute, but sometimes disturbing, funny, but slightly sexy. I love to work in vectors as much as I love pizza. ルーベンス カントゥニ 1982年、イタリア・ジェノヴァ生まれ。目の色はPantone 4485、髪の色はPantone process Black C。 作品は多様なソースから成り立っており、それらは日本のイマジナリーと文化をポップアートとストリートアートに転換させ、あるいはタトゥーアートをシュールレアリズムへ変貌させている。 クライアントは新興企業や自営のファッションブランドに限らず、世界規模の企業、例をあげるならばNIKE、HasbroやWWE等のプロジェクトも手がけている。 仕事の焦点は主にユニークでカラフル、コントラストの強いキャラクターデザインとタイポグラフィである(とはいえ、プロジェクトによってそれらを変える必要があることを歓迎している)。作品のイメージはカワイイと言われることが多いが、それらは時には不穏で、あるいは愉快で、それでいて少しセクシーさを漂わせる。 ベクターによる作業を愛しており、その思いはピザに対する愛にすら匹敵する。 TokyoCandies joined Society6 on January 31, 2013
More
www.tokyocandies.com
Rubens Cantuni. Born in 1982 in Genoa – Italy. I have Pantone 4485 C eyes and Pantone Process Black C hair. My work is influenced by a multitude of different sources. From japanese imaginary and culture to pop and street art, from tattoos to pop surrealism, movies and comics. I worked for several start-ups and independent fashion brands as well as big multinational companies, such as Nike, Hasbro and WWE. I focus mainly on character design and typography (but I like to be challenged with new projects), with a personal, colorful and rich in contrasts style. My work as been described as cute, but sometimes disturbing, funny, but slightly sexy. I love to work in vectors as much as I love pizza.
ルーベンス カントゥニ 1982年、イタリア・ジェノヴァ生まれ。目の色はPantone 4485、髪の色はPantone process Black C。 作品は多様なソースから成り立っており、それらは日本のイマジナリーと文化をポップアートとストリートアートに転換させ、あるいはタトゥーアートをシュールレアリズムへ変貌させている。 クライアントは新興企業や自営のファッションブランドに限らず、世界規模の企業、例をあげるならばNIKE、HasbroやWWE等のプロジェクトも手がけている。 仕事の焦点は主にユニークでカラフル、コントラストの強いキャラクターデザインとタイポグラフィである(とはいえ、プロジェクトによってそれらを変える必要があることを歓迎している)。作品のイメージはカワイイと言われることが多いが、それらは時には不穏で、あるいは愉快で、それでいて少しセクシーさを漂わせる。 ベクターによる作業を愛しており、その思いはピザに対する愛にすら匹敵する。
TokyoCandies joined Society6 on January 31, 2013.
Prints by TokyoCandies
37 results
Filter