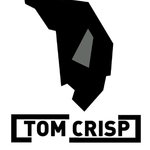 Tom Crisp from London is a 24-year-old menswear fashion designer with a great love of Graphic design. Crisp's style is graphic, urban and deconstructed. His inspirations are mainly drawn from graphic designers using techniques such as glitching and datamoshing as well as various graffiti artists and the built environment. He aims to create design that is abstract, fun and is engaging and appropriate to todays urban guy. Having had a long relationship with grunge, this 90's genre is a recurring theme in the work. Tom was awarded the best Menswear collection prize at 2010's Graduate Fashion Week and went on to win the British Fashion Council's MA scholarship to the Royal College of Art - an accolade never before awarded to a menswear designer. While at the Royal college; Tom has won projects with Umbro and IFF and been featured in many publications including British Vogue, Elle and Vogue Italia. He presented his final MA collection at the Royal College of Art in May 2012. In June 2012 he unveiled his latest project designing the Medal and Flower bearer outfits for the Victory (Medal) Ceremonies of the London 2012 Olympic Games and has since worked as a freelance print designer for Givenchy Menswear. joined Society6 on December 4, 2012
More
Tom Crisp from London is a 24-year-old menswear fashion designer with a great love of Graphic design.
Crisp's style is graphic, urban and deconstructed. His inspirations are mainly drawn from graphic designers using techniques such as glitching and datamoshing as well as various graffiti artists and the built environment. He aims to create design that is abstract, fun and is engaging and appropriate to todays urban guy. Having had a long relationship with grunge, this 90's genre is a recurring theme in the work.
Tom was awarded the best Menswear collection prize at 2010's Graduate Fashion Week and went on to win the British Fashion Council's MA scholarship to the Royal College of Art - an accolade never before awarded to a menswear designer. While at the Royal college; Tom has won projects with Umbro and IFF and been featured in many publications including British Vogue, Elle and Vogue Italia. He presented his final MA collection at the Royal College of Art in May 2012.
In June 2012 he unveiled his latest project designing the Medal and Flower bearer outfits for the Victory (Medal) Ceremonies of the London 2012 Olympic Games and has since worked as a freelance print designer for Givenchy Menswear.
joined Society6 on December 4, 2012.