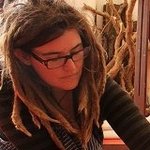 My name is Tracy. I'm a self-taught mixed media artist living & working in Cape Town. I was born at the tip of Africa and grew up in the desert landscape of Namibia where I spent my childhood years playing in the dust, stepping on thorns and running free in dry riverbeds. As soon as I was old enough to leave home, I headed back for the bright lights of Cape Town. London followed a few years later, and before I knew it, I was married, with two children and pushing forty. For a while I thought I'd never get home again. But my homing instinct was strong, and I found my way back to the Mother City in 2008. Once safely ensconced at the foot of Table Mountain, I started creating, and I haven't stopped since. This is how I really found my way back home. These days I spend my time painting, exploring the delights of the local countryside and hanging out with my family and other fun folks. Artist statement: My paintings are personal stories, comprised of my emotions and thoughts, hopes and fears. Most of my paintings focus on the themes of feminism and the environment, and humankind's connection to nature and our wild sides, subjects that thread their way through my life and my interests. I paint in layers, slowly bringing order and sense to a visual tale that unfolds on the canvas. My painting process is spontaneous. I work intuitively with colour and line in a range of mediums, including acrylic paint, oil charcoal, ink and oil pastel. You can see more of my work or connect with me here: Blog: http://www.tracystokesart.co.za Twitter: http://www.twitter.com/tracystokesart Facebook: http://www.facebook.com/tracystokesart Profile photo credit: Janet Botes http://www.janetbotes.co.za joined Society6 on November 8, 2012
More
My name is Tracy. I'm a self-taught mixed media artist living & working in Cape Town.
I was born at the tip of Africa and grew up in the desert landscape of Namibia where I spent my childhood years playing in the dust, stepping on thorns and running free in dry riverbeds. As soon as I was old enough to leave home, I headed back for the bright lights of Cape Town. London followed a few years later, and before I knew it, I was married, with two children and pushing forty. For a while I thought I'd never get home again.
But my homing instinct was strong, and I found my way back to the Mother City in 2008. Once safely ensconced at the foot of Table Mountain, I started creating, and I haven't stopped since. This is how I really found my way back home.
These days I spend my time painting, exploring the delights of the local countryside and hanging out with my family and other fun folks.
Artist statement:
My paintings are personal stories, comprised of my emotions and thoughts, hopes and fears. Most of my paintings focus on the themes of feminism and the environment, and humankind's connection to nature and our wild sides, subjects that thread their way through my life and my interests.
I paint in layers, slowly bringing order and sense to a visual tale that unfolds on the canvas. My painting process is spontaneous. I work intuitively with colour and line in a range of mediums, including acrylic paint, oil charcoal, ink and oil pastel.
You can see more of my work or connect with me here:
Blog: http://www.tracystokesart.co.za
Twitter: http://www.twitter.com/tracystokesart
Facebook: http://www.facebook.com/tracystokesart
Profile photo credit: Janet Botes http://www.janetbotes.co.za
joined Society6 on November 8, 2012.