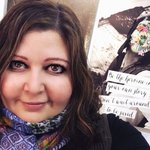 I am a travel photographer who has also developed a love of graphic design and mixed media. The Sassy Gals Wisdom line was inspired by my love of travel, history, and culture and reflects the indomitable spirit of women across time and place. Come get inspired, and see what these sassy gals have to say! Wholesale inquiries and special requests, including larger prints and gift certificates are welcome! For the serious collector, original pieces on canvas are available in limited editions. Just shoot me an email at sassygalswisdom@gmail.com. Thanks for looking! joined Society6 on September 30, 2011
More
I am a travel photographer who has also developed a love of graphic design and mixed media. The Sassy Gals Wisdom line was inspired by my love of travel, history, and culture and reflects the indomitable spirit of women across time and place. Come get inspired, and see what these sassy gals have to say!
Wholesale inquiries and special requests, including larger prints and gift certificates are welcome!
For the serious collector, original pieces on canvas are available in limited editions. Just shoot me an email at sassygalswisdom@gmail.com.
Thanks for looking!
joined Society6 on September 30, 2011.