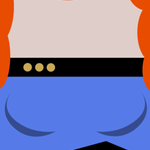 Trektangles
Boldly going where no minimalist art has gone before... The ongoing mission, to recreate each major crew member in minimalist form. To branch off onto secondary characters. To create expanded characters. To boldly create what no man has created before. My place on the web can be found at http://trektangles.blogspot.com/ E-Mail: trektangles at gmail dot com Find me on Facebook: http://www.facebook.com/trektangles Message me on Twitter: http://twitter.com/trektangles Share with me on Pinterest: http://www.pinterest.com/trektangles/ Trektangles joined Society6 on July 8, 2014
More
Boldly going where no minimalist art has gone before...
The ongoing mission, to recreate each major crew member in minimalist form. To branch off onto secondary characters. To create expanded characters.
To boldly create what no man has created before.
My place on the web can be found at http://trektangles.blogspot.com/
E-Mail: trektangles at gmail dot com Find me on Facebook: http://www.facebook.com/trektangles Message me on Twitter: http://twitter.com/trektangles Share with me on Pinterest: http://www.pinterest.com/trektangles/
Trektangles joined Society6 on July 8, 2014.
Minimalist-Star-Trek-Tng-The-Next-Generation-Captain-Jean-Luc-Picard_iphone-Case by Trektangles
0 results
Filter