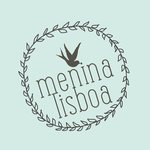 Menina Lisboa
My name is Claudia, also known as Twiggs. I decided what I really wanted to do after being unemployed, it was my opportunity to start and grow my business as a lifestyle photographer, but at the same time, develop my skills as a self-taught graphic designer. It has been such a nice adventure! You can find me on many places... >> blog: http://www.meninalisboa.com >> facebook: https://www.facebook.com/ameninalisboa >> twitter: https://twitter.com/hellotwiggs >> email: ameninalisboa@gmail.com Menina Lisboa joined Society6 on November 2, 2011
More
My name is Claudia, also known as Twiggs. I decided what I really wanted to do after being unemployed, it was my opportunity to start and grow my business as a lifestyle photographer, but at the same time, develop my skills as a self-taught graphic designer. It has been such a nice adventure!
You can find me on many places...
blog: http://www.meninalisboa.com facebook: https://www.facebook.com/ameninalisboa twitter: https://twitter.com/hellotwiggs email: ameninalisboa@gmail.com
Menina Lisboa joined Society6 on November 2, 2011.