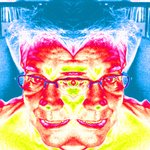 Tyler Hewitt
Tyler Hewitt is Professor of Studio Art at a suburban Chicago college, where he teaches Photography and 2D Design. He received his Master of Fine Arts degree from Cranbrook Academy of Art, and a Bachelor of Social Work degree from Eastern Michigan University.
His creative interests include alternative process photographic printing, shooting with toy cameras, collage, and screenprinting.
In addition to his professional interests, Tyler Hewitt is an avid reader, an animation fan, and a collector of kitsch objects and vintage pop ephemera. He also enjoys riding his bike, hiking and travel.
Read more