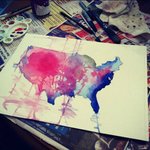 Yvonne Jeannine
I am in love with all things art, and color. I sell the originals of my work and handmade jewelry: www.uniquelyyew.etsy.com Follow me on Pinterest: http://pinterest.com/uniquelyyew/ Like us on facebook: http://www.facebook.com/uniquelyyew Check out my Blog(s): This is where I tell my story the most, I also post DIY how to's, about interests, recipes, and shop news. http://uniquelyyew.blogspot.com/ http://www.tumblr.com/blog/uniquelyyew http://uniquelyyew.piccsy.com/ And last but not least my deviant art where I have lots of art and photography to look at: http://yve4882.deviantart.com/ Yvonne Jeannine joined Society6 on June 10, 2012
More
I am in love with all things art, and color.
I sell the originals of my work and handmade jewelry:
www.uniquelyyew.etsy.com
Follow me on Pinterest: http://pinterest.com/uniquelyyew/
Like us on facebook: http://www.facebook.com/uniquelyyew
Check out my Blog(s):
This is where I tell my story the most, I also post DIY how to's, about interests, recipes, and shop news. http://uniquelyyew.blogspot.com/
http://www.tumblr.com/blog/uniquelyyew http://uniquelyyew.piccsy.com/
And last but not least my deviant art where I have lots of art and photography to look at: http://yve4882.deviantart.com/
Yvonne Jeannine joined Society6 on June 10, 2012.
California 4Yg_Print by Yvonne Jeannine
22 results
Filter