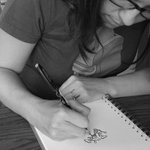 I'm a girl with a pen in her hand. When I don't have a pen in my hand, I usually have a camera, or maybe some paper and glue. I'm always creating, though. Find me here as well: http://instagram.com/ursusetruscus http://www.twitter.com/22mins http://www.redbubble.com/people/ursularodgers (photography and art) http://zazzle.com/UrsulaRodgersArt joined Society6 on October 17, 2011
More
I'm a girl with a pen in her hand. When I don't have a pen in my hand, I usually have a camera, or maybe some paper and glue. I'm always creating, though.
Find me here as well:
http://instagram.com/ursusetruscus
http://www.twitter.com/22mins
http://www.redbubble.com/people/ursularodgers (photography and art)
http://zazzle.com/UrsulaRodgersArt
joined Society6 on October 17, 2011.