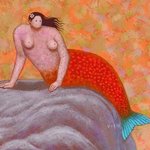 My Life as a Visual Artist I was born in Central México and was involved with the arts during my early youth. I learned painting techniques at Instituto de Arte Bribiesca, in México City. I also designed jewelry for a renowned maker of fine silver jewelry and art objects, and contributed to a number of advertising agencies. Traveling to the countryside of México, to Central America, Venezuela, Colombia, Jamaica, Haiti and other Caribbean Countries, provided me with a varied cultural environment and a diversity of art experiences that influenced on my work. I strive to evoke gaiety and visual pleasure with color, shape and texture. I used pastels and watercolors, but I prefer acrylics and oils. Its creamy quality allows me to get the desired texture and exact color tonalities. Art Genres During my life I have created original paintings in a variety of themes: Surrealism, Abstract Art, Figurative, Landscapes, Still Life, Cityscape, Seascape, Floral, Fantasy. joined Society6 on September 7, 2012
More
My Life as a Visual Artist I was born in Central México and was involved with the arts during my early youth.
I learned painting techniques at Instituto de Arte Bribiesca, in México City.
I also designed jewelry for a renowned maker of fine silver jewelry and art objects, and contributed to a number of advertising agencies.
Traveling to the countryside of México, to Central America, Venezuela, Colombia, Jamaica, Haiti and other Caribbean Countries, provided me with a varied cultural environment and a diversity of art experiences that influenced on my work.
I strive to evoke gaiety and visual pleasure with color, shape and texture.
I used pastels and watercolors, but I prefer acrylics and oils. Its creamy quality allows me to get the desired texture and exact color tonalities.
Art Genres During my life I have created original paintings in a variety of themes: Surrealism, Abstract Art, Figurative, Landscapes, Still Life, Cityscape, Seascape, Floral, Fantasy.
joined Society6 on September 7, 2012.