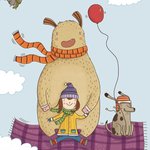 Villie Karabatzia
My name is Villie and I am an illustrator from Athens, Greece. I studied illustration at Ornerakis School of Applied Arts. I work as a full-time artist and I love creating cute characters and cheerful illustrations. Website: www.villiekarabatzia.com/ Facebook: https://www.facebook.com/VillieKarabatziaIllustration Twitter: https://twitter.com/VKarabatzia LinkedIn: http://www.linkedin.com/profile/view?id=75524264&trk=tab_pro Villie Karabatzia joined Society6 on August 24, 2012
More
My name is Villie and I am an illustrator from Athens, Greece.
I studied illustration at Ornerakis School of Applied Arts.
I work as a full-time artist and I love creating cute characters and cheerful illustrations.
Website: www.villiekarabatzia.com/
Facebook: https://www.facebook.com/VillieKarabatziaIllustration
Twitter: https://twitter.com/VKarabatzia
LinkedIn: http://www.linkedin.com/profile/view?id=75524264&trk=tab_pro
Villie Karabatzia joined Society6 on August 24, 2012.
Summer Memories With My Best Friend_Cards by Villie Karabatzia
54 results
Filter