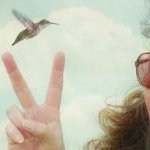 A life-long naturalist, Cindy's images and nature writing have appeared in numerous field guides, magazines, newspapers, natural history journals and children's books, as well as many online sources. Her images can also be viewed regularly in yearly calendars and newsletters published by The Michigan Nature Association. Although her photos have won numerous awards, her mission is to promote conservation efforts via her photography and writing endeavors. Main Website: www.woodsongphoto.com \*All images are available for commercial ues. Please e-mail me for futher information.\* joined Society6 on January 15, 2012
More
A life-long naturalist, Cindy's images and nature writing have appeared in numerous field guides, magazines, newspapers, natural history journals and children's books, as well as many online sources. Her images can also be viewed regularly in yearly calendars and newsletters published by The Michigan Nature Association. Although her photos have won numerous awards, her mission is to promote conservation efforts via her photography and writing endeavors.
Main Website: www.woodsongphoto.com
*All images are available for commercial ues. Please e-mail me for futher information.*
joined Society6 on January 15, 2012.