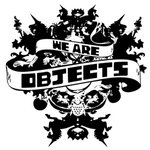 We Are Objects
https://www.facebook.com/weareobjects WE ARE OBJECTS is the brainstorm entity of music and character art by Eric Nichols. From having a musical background in classical piano, rock, punk, electro, and industrial, Eric has written from several genre's where We Are Objects is the avenue that forms a soundtrack of life's complicated expression. On the art side of things, his sketches emphasize a combination of living in the moment and an enjoyment of science fiction, showcasing a post apocalyptic existence where Party Bot interacts with endless nights while remaining the sole resistance to annoying evil scum. Cast of Characters: Party Bot Party Cat Little Bastard Lord Bubble Face Undead Elvis http://weareobjects.bandcamp.com/ We Are Objects joined Society6 on October 18, 2012
More
https://www.facebook.com/weareobjects
WE ARE OBJECTS is the brainstorm entity of music and character art by Eric Nichols. From having a musical background in classical piano, rock, punk, electro, and industrial, Eric has written from several genre's where We Are Objects is the avenue that forms a soundtrack of life's complicated expression. On the art side of things, his sketches emphasize a combination of living in the moment and an enjoyment of science fiction, showcasing a post apocalyptic existence where Party Bot interacts with endless nights while remaining the sole resistance to annoying evil scum.
Cast of Characters:
Party Bot Party Cat Little Bastard Lord Bubble Face Undead Elvis
http://weareobjects.bandcamp.com/
We Are Objects joined Society6 on October 18, 2012.
Wao We Are Objects_T Shirt by We Are Objects
41 results
Filter