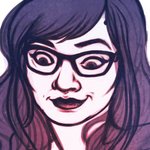 Wynta-Illustrations
Hiya, I'm L. W. Price. Creator of Wynta-Illustrations. I'm a certified, graduated illustrator and graphic designer. I'm a part-time illustration and graphics tutor and currently getting a film and game design degree in the works. Comics, illustration, movies and pop culture rule my work and my world! Wynta-Illustrations joined Society6 on October 25, 2011
More
Hiya, I'm L. W. Price. Creator of Wynta-Illustrations.
I'm a certified, graduated illustrator and graphic designer. I'm a part-time illustration and graphics tutor and currently getting a film and game design degree in the works. Comics, illustration, movies and pop culture rule my work and my world!
Wynta-Illustrations joined Society6 on October 25, 2011.