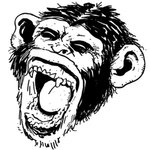 Robert Jimenez
Robert's imagination and desire to draw were first fueled by his frequent visits to the corner newsstand in his Brooklyn neighborhood to purchase comic books, especially those that featured the art of Neal Adams, George Perez, and Jim Aparo. Later, the films seen on local TV, everything from the comedies of Abbott & Costello and The Marx Brothers, B Monster movies, and especially the Planet of the Apes series, left a definite imprint in his work. More recently, an interest in Tiki and Pulp Art have been added to the mix. Incorporating an ever-growing cast of Apes, Tikis, and appearances from the likes of Doc Savage, Tarzan, The Shadow, and more. He is creating a unique narrative through his paintings and sculptures.
Robert's work has appeared on album covers, in publications such as Tiki Magazine and Pinstriping & Kustom Graphics Magazine, THE THING:ARTBOOK, PKD Otaku and has shown in galleries including Disneyland's Wonderground, Harold Golen, M Modern, Creature Features, and Bear & Bird among others.
You can also see Robert's work in trading card sets for Topps, Cryptozoic, and Upper Deck on licenses such as Garbage Pail Kids, Wacky Packages, Mars Attacks, Star Wars, DC Comics, Marvel Comics, Ghostbusters, Adventure Time and more. Most notably Robert recently painted 8 images for the Upper Deck trading card set FIREFLY The Verse.
Robert is also the author and illustrator of the books LAST CALL AT TIKILANDIA, STRANGEWISE NO.9 and CHIMPS & TIKIS AND RAVEN-HAIRED BEAUTIES: AN ADULT COLORING BOOK, NOSFERATU'S CHRISTMAS IN NEW YORK and WEIRD-ASS FACES.
Read more