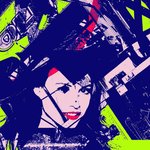 Zenographica
Zenographica art works are mostly done by the artist Zieben L. based in L.A, Calif. As a young kid he had often been fascinated by the black and white comic strips, drawings and paintings, and had excelled in art while flunked out all other subjects in school(just kidding). After his parents forcefully relocated him from Taiwan to South American and then eventually to California against his will, he eventually attended and graduated from CSULB with a BA degree in Fine Art & Illustration. With first accidental job landed him as a graphic designer, Zieben eventually became a design professional instead, leaving him 18+ years of rich design experience and full body of commercial graphic works via variety of industries(boring yeah I know). Zieben started his digital fine art endeavor in 2010 (official wiki date). Several years earlier, he had already been experimenting with abstract concepts using graphic programs such as Adobe Illustrator and Photoshop and with traditional paint and brushes. Mainly using newspaper scans, magazine cut-outs and personal reference photos, Zieben fully utilized & repurposed those collected image materials to composite most of his intricate symmetrical & asymmetrical abstracts. At the current time, Zieben continues to push his digital art experiments envelope further(often burning through his midnight hours), and with no foreseeable plan to stop such activity anytime soon. He is currently seeking venues to exhibit his digital works when and wherever possible(OK my work should not wind up in garage sales just yet). Zenographica joined Society6 on November 1, 2012
More
Zenographica art works are mostly done by the artist Zieben L. based in L.A, Calif. As a young kid he had often been fascinated by the black and white comic strips, drawings and paintings, and had excelled in art while flunked out all other subjects in school(just kidding). After his parents forcefully relocated him from Taiwan to South American and then eventually to California against his will, he eventually attended and graduated from CSULB with a BA degree in Fine Art & Illustration. With first accidental job landed him as a graphic designer, Zieben eventually became a design professional instead, leaving him 18+ years of rich design experience and full body of commercial graphic works via variety of industries(boring yeah I know).
Zieben started his digital fine art endeavor in 2010 (official wiki date). Several years earlier, he had already been experimenting with abstract concepts using graphic programs such as Adobe Illustrator and Photoshop and with traditional paint and brushes. Mainly using newspaper scans, magazine cut-outs and personal reference photos, Zieben fully utilized & repurposed those collected image materials to composite most of his intricate symmetrical & asymmetrical abstracts. At the current time, Zieben continues to push his digital art experiments envelope further(often burning through his midnight hours), and with no foreseeable plan to stop such activity anytime soon. He is currently seeking venues to exhibit his digital works when and wherever possible(OK my work should not wind up in garage sales just yet).
Zenographica joined Society6 on November 1, 2012.