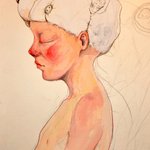 www.zinaarts.com https://www.etsy.com/shop/Zinaarts https://www.facebook.com/Zinaarts My name is Lazarina Nedelcheva - Zina. I'm a graduated graphic artist from Bulgaria. What I love most is to create things, whether they are drawings or dolls or any kind of creatures at all, that other people and I would enjoy. I find inspiration in every single little thing that could be just sitting there in the corner, unnotiseblhttp://zinaarts.tumblr.com/e for others, old and forgotten.. Music, art materials, old fabrics and antique objects are big part of my work as well. I just adore the opportunity to sit somewhere and sketch whatever comes in my mind, trying to show it to the rest of the world... joined Society6 on February 20, 2012
More
www.zinaarts.com
https://www.etsy.com/shop/Zinaarts
https://www.facebook.com/Zinaarts
My name is Lazarina Nedelcheva - Zina.
I'm a graduated graphic artist from Bulgaria. What I love most is to create things, whether they are drawings or dolls or any kind of creatures at all, that other people and I would enjoy. I find inspiration in every single little thing that could be just sitting there in the corner, unnotiseblhttp://zinaarts.tumblr.com/e for others, old and forgotten..
Music, art materials, old fabrics and antique objects are big part of my work as well.
I just adore the opportunity to sit somewhere and sketch whatever comes in my mind, trying to show it to the rest of the world...
joined Society6 on February 20, 2012.