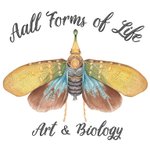 Aall Forms of Life
Hello, I'm Nathalie Aall, I was inspired to start Aall Forms of Life as my approach for meshing biology and art to communicate the beauty and importance of the natural world.
As a wildlife biologist, I have been fortunate enough to conduct research in remote rainforests all over the world to observe unbelievably beautiful forms of life. Knowing that I couldn't give these complex and unique creatures justice with a simple photograph, I delved into the art of scientific illustration and obtained my graduate certificate in Natural Science Illustration in 2016.​
With Aall Forms of Life I drive to create works that can help increase public awareness of often overlooked animals and encourage sustainability and conservation efforts in viewers both young and old.
Check out my website aallformsoflife . com for more info and a selection on art prints!
Read more
Aall Forms of Life's Store
Filter