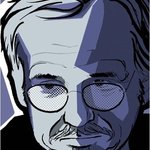 Alessandro Andreuccetti
www.facebook.com/andreuccettiart www.twitter.com/andreuccettiart www.andreuccettiart.it Born in San Gimignano, Italy, in 1955, he studied art and architecture in Florence and began his work in 1980 as a designer, designer and painter. He has participated in numerous personal and collective exhibitions in Italy and around the world, and many works are featured in public and private collections. Statement Shape, color, and textures are the skeleton on which I construct my images, or perhaps it would be better to talk about visions or dreams because it all starts and develops first in my mind, more or less unconsciously and later, much later, moves on Canvas or paper. Through the study of my subjects, whether they are figures, cities or island landscapes, and elaborate what for me represents the soul of the subject itself, I carpet the primitive shapes, I hold on to their color, lights and shadows, fixed as In a photograph, the magical moment in which objects reveal themselves then translate everything into the universal language of design and painting. Alessandro Andreuccetti joined Society6 on February 8, 2012
More
www.facebook.com/andreuccettiart www.twitter.com/andreuccettiart www.andreuccettiart.it
Born in San Gimignano, Italy, in 1955, he studied art and architecture in Florence and began his work in 1980 as a designer, designer and painter. He has participated in numerous personal and collective exhibitions in Italy and around the world, and many works are featured in public and private collections.
Statement Shape, color, and textures are the skeleton on which I construct my images, or perhaps it would be better to talk about visions or dreams because it all starts and develops first in my mind, more or less unconsciously and later, much later, moves on Canvas or paper. Through the study of my subjects, whether they are figures, cities or island landscapes, and elaborate what for me represents the soul of the subject itself, I carpet the primitive shapes, I hold on to their color, lights and shadows, fixed as In a photograph, the magical moment in which objects reveal themselves then translate everything into the universal language of design and painting.
Alessandro Andreuccetti joined Society6 on February 8, 2012.