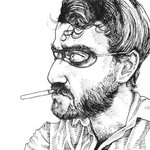 Aaron Bir
Aaron Bir is a working artist and illustrator from Austin, TX.
He was the first cartoonist published in New York literary Magazine Slice Magazine. His book, Thomas the Headless Boy, with writer, Jeffrey Burandt, is being released through the literary and arts website of Emmy award winning cartoonist, Dean Haspiel, TripCity.net.
Of Aaron's short comic, "Thank You," published in Grayhaven Comics' anthology series, The Gathering, Ain't Cool News said...
"...Aaron Bir's gorgeous "Thank You" [is] both touching and well done."
Gail Simone, writer DC Comic's Wonder Woman, Batgirl, and Secret Six said of the short comic , written by Joshua Mote with art by Aaron Bir, entiteld "Tommy"...
"...pretty great all the way around. This is what confident comics look like. There are only a handful of words in the whole thing, but there's a lot of emotion and even some suspense, tough to pull off in two pages. Great art, this is a gem. One of my all time favorite comic stories was a single page of Harvey Pekar making lemonade. It had this kind of feel, which is high praise."
Read more