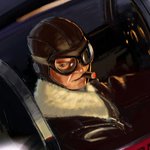 aaronbmiller.com
My work revolves around the fantasy genre. I am very passionate about painting, especially the figure. I run a monthly costumed figure drawing session in Chicago. I am inspired by the great illustrators of today and the masters of our past. Thankfully those same masters shared the same delight in painting fantastic scenes out of our myths and legends. As much as I like to work with oils, I am just as intrigued by the digital mediums, much like the world was fascinated with the dawn of photography. If you want to check out my portfolio, please stop by; aaronbmiller.com aaronbmiller.com joined Society6 on December 5, 2013
More
My work revolves around the fantasy genre. I am very passionate about painting, especially the figure. I run a monthly costumed figure drawing session in Chicago. I am inspired by the great illustrators of today and the masters of our past. Thankfully those same masters shared the same delight in painting fantastic scenes out of our myths and legends. As much as I like to work with oils, I am just as intrigued by the digital mediums, much like the world was fascinated with the dawn of photography.
If you want to check out my portfolio, please stop by; aaronbmiller.com
aaronbmiller.com joined Society6 on December 5, 2013.