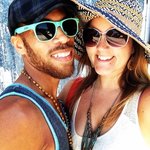 Denson Creative
This shop is a collective partnership between husband and wife duo Michael and Charith Denson. Almost as soon as we met - over coffee and art - we began collaborating and playing off of each others creativity. After painting several tables for a local coffee shop we began to play on canvas and had our first gallery show in June 2013. We've had a lot of fun collaborating and exploring art. This shop showcases many of our collaborative pieces in which we've named "Ab INTRA" (latin for "from within"), as well as our individual works. Denson Creative joined Society6 on July 9, 2014
More
This shop is a collective partnership between husband and wife duo Michael and Charith Denson.
Almost as soon as we met - over coffee and art - we began collaborating and playing off of each others creativity. After painting several tables for a local coffee shop we began to play on canvas and had our first gallery show in June 2013.
We've had a lot of fun collaborating and exploring art. This shop showcases many of our collaborative pieces in which we've named "Ab INTRA" (latin for "from within"), as well as our individual works.
Denson Creative joined Society6 on July 9, 2014.